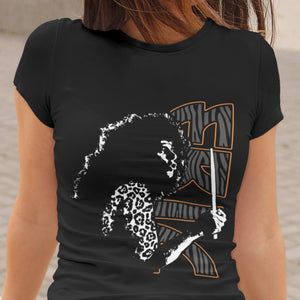 ERIC CAR "THE HUNTER" TEE
KLICK TEE SHOP is beyond proud to continue Eric "The Fox" Carr's legacy with our officially licensed "ERIC CARR - THE HUNTER" tee! Inspired by the 1984 track, Lonely Is the Hunter, our sleek and powerful design shows the late Carr doing what he loved best, rocking out behind the drum kit. Drawing from the "animal" and "hunter" themes of the 1984 classic "Animalize", this tee incorporates tiger and leopard print patterns to evoke the spirit of Eric's playing; raw and in the flesh. Made with 100% super soft cotton, this tee will feel like an old favorite from the first time you put it on.
Paul Charles Caravello, better known as his stage name, Eric Carr, was the second drummer for the rock band KISS. He joined in 1980 after the departure of founding drummer Peter Criss and remained a member until 1991, when he tragically died from heart cancer. After joining the band (and briefly considering the stage persona "The Hawk"), Carr became "The Fox" and made his live debut with KISS a mere two weeks later. He went on to appear on 9 studio albums and many more compilations with the band. Many consider Carr to be the catalyst for KISS' return to the hard rock style that "Dynasty" and "Unmasked" strayed from. Wherever he ranks on your list of KISS drummers, it cannot be denied that Carr reinvigorated the group with a new energy and helped usher in their reinvigorated 1980's reign, with classics records like "Lick It Up", "Asylum", and "Hot in the Shade".
Carr is best known for his hard-hitting style and his friendly persona. After working the New York club circuit for years, Carr was more than experienced by the time he joined the hottest band in the world. But because of all the years he spent paying his dues, he was very grateful for the opportunity to move on to playing larger shows and achieving global success. Throughout it all, he was able to stay the same humble and down to earth kid from Brooklyn that he was. A very telling aspect of his character was that out of all the members of the group, he responded to the most fan mail. His playing style departed from the jazzier tendencies of Peter Criss into a more straight up heavy metal style. His iconic drum sound is perhaps best found on his second record with KISS, Creatures of the Night. 'I Love It Loud' (appropriately titled) truly captures that live in the room, reverb heavy sound that he loved so much in the recordings of John Bonham. Another great example from this album are the rolling and crashing drum fills at the end of 'I Still Love You'.
Another unique factor that set Eric apart was his accomplished musicianship. Along with being a great drummer, he was also a skilled guitarist, keyboardist, and singer ( his original audition tape for the band featured him singing lead vocals over 'Shandi'). His expansive musical capabilities were seen right from his start in KISS. On his first record with the band, 'The Elder', Carr contributed  'Under the Rose'. Their first song to feature a 6/8-time signature. However, his virtuosic capabilities are maybe best remembered through his legendary drum solos. This is a classic solo from the 1984 Animalize tour. And here is clip of him from 1988 in Budokan, Japan, where his hard hitting style and super-fast double bass drum technique are on full display. Watch him tear through his kit before the whole band launches into 'War Machine' off of "Creatures of the Night". Also check out KLICK TEE SHOP's very own "War Machine" design, where we honor Eric's iconic drum set from that tour.
 Eric Carr may be gone but he is not forgotten. His music and personality will be remembered in the hearts of millions across the globe. KLICK TEE SHOP is honored to be able to offer officially licensed Eric Carr designs to help this legacy live on. Made by fans, for fans. Carr's final musical contribution before his passing was backing vocals on 'God Gave Rock 'N' Roll to You II' off the album revenge (you can see him playing drums in the music video, filmed just month before his death). Our "ERIC CARR GOD GAVE ROCK AND ROLL TO YOU - LONG SLEEVE SHIRT" is a testament to all the great gifts Carr was able to share with the world during his too-short time here. Thank you, Eric.
BUY THE ERIC CARR - THE HUNTER T-SHIRT: https://www.klickteeshop.com/products/eric-carr-the-hunter-mens-classic-tee
---