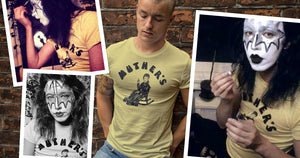 Muther's Music Emporium - Nashville, TN
MUTHER'S
KLICK TEE SHOP pays tribute to the Spaceman with our Muther's Classic Tee design. Made with 100% cotton, this soft and lightweight shirt fits men and women like an old favorite. Featuring the vintage middle finger granny sitting on a rocker, now you can be (almost) just like Ace with this recreation of that iconic shirt.
An odd footnote in the history of the Tennessee music scene, not much is known about the Muther's Music Emporium. Towards the end of 1973, Nashville music promoter Joe Sullivan bought an old run-down fabric store, renovated it, installed a sound system, and turned it into a live venue for rock and roll. Sullivan intended for Muther's Music Emporium to serve as Nashville's very own version of L.A's Catch a Rising Star or New York's Bitter End. A club to feature bands that were on their way to national fame. Due to economic and legal reasons, this club shut down only a handful of months after opening it's doors. The bands they were booking were too expensive for the sizes of the crowds they were drawing. The club also came into some legal troubles over teenagers and young kids attending the rock shows. However, this is not to say that in that short time they did not host a variety of legendary musicians. Bruce Springsteen, Bob Dylan, and Kiss are a few examples.
Some may argue that this club is most famous for being seen on the Spaceman's shirt from 1974. And they just might be right. Taken backstage before a gig in 1974, photographer Waring Abbott captured some great shots of Ace wearing a tight yellow shirt from that short lived venue.
It is unclear if the photo was taken before their April 16th gig at Muther's or in the weeks following that show, but it is clear to any KISS fan how iconic the shirt's design is. Because of the obscurity of this club, these shirts are virtually impossible to find anywhere today. Being huge fans ourselves, it has always been frustrating to not be able to find a version of this shirt for ourselves. So the only thing we could do was recreate it ourselves. And now we are offering our Muther's Classic Tee to you! You can get it as a gray V-neck, a white Tri-blend Tee, or the original classic yellow. We also offer the Muther's design on socks, blankets, and more! However you want to celebrate this piece of rock and roll history, now you can. Only at KLICK TEE SHOP!
---