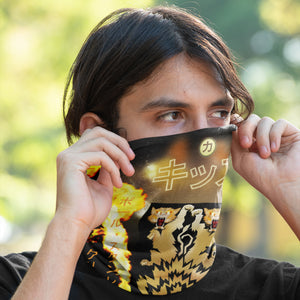 Stylish Protective Gaiter Masks to Cover Your Face
KLICK TEE SHOP is extremely excited about our brand-new Neck Gaiters! Made with breathable polyester fabric, these one-size-fits all gaiters feature all of your favorite KLICK TEE designs. Considering our current crazy times, our gaiters can most definitely serve as a convenient and reliable face covering, but it is also very versatile. They can be used over and over again as a headband, bandana, neck warmer, and however else you would like to use it. Available in over 20 different rocking design, the hardest part now is deciding on which one to choose! You can show off your love of true cult-classic film, Phantom of the Park, get into the Space Ace New York Groove, pay tribute to Eric Carr, and so much more.
Nothing has impacted our world and our lives quite like COVID-19 has. For many of us it felt like a sneak attack. Coming up quietly and leaving us all stunned. Hopefully we all have something to turn to in these crazy times. Whether that be spending time with family, ZOOMing with old friends, or listening to our favorite vinyl music, we all need something to take our minds off of the stress and anxiety that seems to surround us. With this support and a hope for a better future, our country is adapting. Students are learning from their bedrooms. Many adults have been forced to work from home. Sadly, many have lost their jobs and are just trying to figure things out. But one thing that is certain is that we all have to join together and keep pushing ahead if we want to reach the other side. This is why we have started producing our very own, KLICK TEE SHOP Neck Gaiters.
Whether or not your area has enforced the use of face coverings, their usage is a symbol and gesture of community. The most important thing at this moment is safety. Your safety, my safety, and everyone else's. And a great way to promote general health is to wear a face mask in public spaces. This is because a face mask protects others from your germs and you from others. It is definitely a bit strange and will take some getting used to, but this discomfort is a small sacrifice to make sure everyone is just that much safer from catching anyone else's germs. Covering your face sends a message to everyone around you that we're all in this together and you are doing your part to help stop the spread of this virus.
Another common way for these germs to spread is by touching you face with your hands. The eyes, nose, and mouth are all highly susceptible to getting you infected. Whether they realize it or not, many people frequently scratch their nose, rub their eyes, and a host of other little movements that can put them at risk. When you are out in public touching things like door handles or shopping carts, you can't be too sure about what germs are on these surfaces. A huge perk of the Klick Tee Shop Neck Gaiters is that it covers a large portion of your face or neck. Even if you subconsciously go to scratch your nose or bite your nails, the Neck Gaiter provides a barrier between your hands and face. So, until you get home and have a chance to thoroughly wash your hands, there is no worry of spreading germs to your face.
It is easy to miss all the social interactions we used to enjoy on a daily basis. Thankfully there are so many great podcasts to give us our fix. Many of KLICK TEE SHOP's favorites, like The KISS Room, Shout It Out Loudcast, and Ages of Rock, are still going strong and releasing episodes during this pandemic. As fellow die-hard fans of the hottest band in the world, we are proud to offer Neck Gaiters featuring the logos of all these great shows. It's just another way to show each other our support.
We also feature our Talismen gaiter, showcasing the beautiful mugs of Jeremy Asbrock, Phil Shouse, and Ryan Spencer Cook, whom have all played with the Gene Simmons Band and currently the Ace Frehley band. For all of us music fans, one of our hardest losses has been live music. Either a huge concert, a band playing at your favorite dive bar, or anywhere in between, we are all counting down the days until we can get back out there and rock. Until then, the Talismen gaiter will have to show that our love for live rock and roll is still alive and well.
We figure if we all have to adopt this new precaution of wearing a face mask, we may as well have fun and look good doing it! A great conversation starter, these rockin' gators will make everyone else in line at the supermarket jealous. This is why we have made our Neck Gaiters featuring all of your favorite KLICK TEE SHOP designs. Channel the Spaceman, Demon, Starchild, or Catman when you are out and about doing your part to keep your community safe and show everyone you are a fan of the hottest band in the world!
SHOP OVER 20 Klick-Ass Designs: https://www.klickteeshop.com/collections/neck-gaiters
---