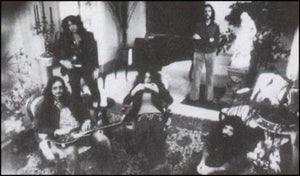 WICKED LESTER T-SHIRT DESIGN
WICKED LESTER
Everyone has an origin story, and the Hottest Band in the World are no exception. KLICK TEE SHOP celebrates the roots of KISS with our WICKED LESTER CLASSIC TEE. Separate yourself from the rest and stand out as a true die-hard fan with this piece of rock and roll history!
(The band in 1972. You can spot a young Gene Simmons and Paul Stanley)
Formed in 1970, the band original went by the name Rainbow (5 years before Ritchie Blackmore's Band). The original line-up consisted of bassist Gene Klein (Simmons), rhythm guitarist Stanley Eisen (Paul Stanley), keyboardist Brooke Ostrander, lead guitarist Stephen Coronel, and drummer Joe Davidson. With a few line-up changes along the way, Wicked Lester carved out a name for themselves very quickly. Being together for only a year and with only a handful of live performances under their belt, they got the chance to record a demo tape at the world famous Electric Lady Studios. Maybe it shouldn't come as a surprise that the two founders of KISS have always had a knack for making deals in the music industry.
 Despite the sinister name, Wicked Lester's sound fit in well with the folk-rock sounds of the time. It would take a few years for Paul and Gene to delve deeper into the hard rock and heavy metal sound, but from the recording, you can still hear where Wicked Lester would lead. Unfortunately, there is no live footage of Wicked Lester proper, but some demos have been unearthed over the years. KISS fans might be most interested in the original rendition of "She", which went on to be reworked for the 1975 record Dressed to Kill. You will notice this version features predominately acoustic guitar and sweeter vocal harmonies than the KISS classic, but the DNA of the track is intact. Wicked Lester also recorded the original version of "Lover Her All I Can", which also went on to be re-recorded for Dressed to Kill. Despite some slightly softer vocals, these two tracks bear much more similarities. Interestingly, these two tracks are featured back-to-back on Dressed to Kill. Is it a coincidence or a wink to their past?
(Album cover for the bootlegged Wicked Lester record)
Another Wicked Lester track that might raise some eyebrows from KISS fans is their cover of the Hollies "We Want to Shout it Out Loud". This track is notable not only because it lets fans hear the Demon and the Starchild cover a folk-pop band from the 60's (think the early iteration of Spinal Tap: Thamesmen), but because it just might be the inspiration for the classic KISS song: "Shout It Out Loud".
If you are wondering what kept these tapes buried all these years, you will have to go right to the source. Gene and Paul simply were not very proud of the recordings. It shouldn't come as much of a surprise, considering Epic Records also declined to release the recordings. Either out of their opinion of the material, because they didn't want other people profiting off of their fame, or both, KISS and Casablanca Records purchased the Wicked Lester Master Tapes from Epic for $130,000. They kept these tapes mostly hidden, until 2001 where they included three songs (Keep Me Waiting, She, Love Her All I Can) on their 5 disc box set. Gene and Paul have both expressed their dislike for the recordings, but Stanley had also stated that they "…were at a point in [their] careers where [they] were happy to just go in and record". Perhaps this type of perspective is what made them feature these original recordings on the official KISS Box Set. Regardless how the band feels about the music, it is a great treat for all KISS fans to trace back the genealogy and hear the Hottest Band in the World in it's infancy. 
KLICK TEE SHOP is run by hardcore fans for hardcore fans. This is why we knew we had to tribute crutial historical document that is WICKED LESTER. Inspired by the band's logo,  we have created a handful of quality products all displaying this classic design. We have hats, hoodies, mugs, pillows, and more. All made to help true fans expressing their deep fandom. We also would like to give a shout out to our friends over at the Cereal At Midnight youtube page for shouting out this shirt and articulating what it means to hardcore KISS fans and music lovers in general. Keep KISStory alive and well with our WICKED LESTER Classic Tee!
---